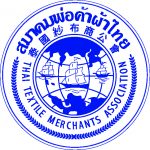 HISTORY OF THAI TEXTILE MERCHANTS ASSOCIATION
              From the gathering of Sampeng Merchants in May 1961, the merchants from Thailand, China, India, and Japan have reached an agreement to establish the association under the name of "The Union Textile Merchants Association of Thailand," which is under the control of the Trade Institutions Division of the Department of Internal Trade, the Ministry of Commerce.
              The role of the Association on the provision of assistance to its members on those days focused on the customs, the Revenue Department, and the trade dispute as most of the textile merchants imported fabric or bought fabric from the importers or from the foreign companies' agents, that have been established in Thailand. Later, Thailand can produce its textile products without importing from abroad. Moreover, thread spinning and textile factories have been increasing established in Thailand. The fabric has been dyed, printed and processed into new textile products with special techniques; so the Revenue Department has interpreted the work, "produce" in an attempt to fully collect the business taxes. The Association (with the help of the Revenue Department) has explained and indicated to the members to reach the exact production tax.
              At present, Thai Textile Merchants Association (TMA) is providing the information exchange for members and its associated. TMA supports its members by solving members' diffi culties such as the information on the labor law, the investment promotional law, or the value added tax law, etc. Moreover, TMA makes an attempt to implement knowledge to its members of using garments and textile businesses to increase the working capacity of both productions—marketing and investing. TMA also provides various kinds of seminars on textile business for the members; thus, they would be able to correctly interact with the official units—The Federation of Thai Industries, the Board of Trade of Thailand, the Chambers of Commerce (both local and oversea), Thailand Textile Institute, and the Thai Textile Manufacturing Association.
ASSOCIATION
May, 1961 Established " THE UNION TEXTILE MERCHANTS ASSOCIATION OF THAILAND "
June 6, 1967 Renamed to " THE UNION TEXTILE MERCHANTS ASSOCIATIONS "
May 24, 2005 Renamed to " THAI TEXTILE MERCHANTS ASSOCIATION "


CHAIRMAN
1961 – 1969 Mr. Chai Chotprasit
1970 – 1983 Mr. Suwan Varikarn (THAI PISAL Co., Ltd.)
1984 – 1990 Mr. Prawat Kaitraungkit (SIN TAI NGUAN Ltd., Part.)
1991 – 1992 Mr. Sawat Chantavijit (NUM HONG Ltd., Part.)
1992 – April 2000 Mr. Suksavasdi Srisuphonvanij (KIM NGUAN CHAN Ltd., Part.)

May 2000 – April 2004 Mr. Suraphol Tiyavacharapong (SAMPRAN WEAVING Co., Ltd.)
May 2004 – April 2007 Mr. Thavon Tantisirivit (KIM HUA Ltd., Part.)
May 2008 – April 2012 Mr. Suchai Pornsirikul (KIANG HONG Co., Ltd.)
May 2012 – April 2016 Mr. Suvit Chatuchinda (SZE LENG Ltd., Part.)
May 2016 – Present Mr. Chaiyos Rungcharoenchai (999 TEXTILE IMPORT AND EXPORT Co., Ltd.)